Events
Malting Building
A beautifully historic site, reimagined for your timely events. Originally used to create a product that brought people together — fostering moments and memories, the Malting Building reaches this same goal every day. The elegantly industrial, open concept designs a world of opportunity when planning your event.
A Look Into History
Duluth Brewing and Malting Company was established in 1895 by brewmaster Reiner Hoch and Charles Meeske. The brewery, located at 29th Avenue West and Helm Street, was one of the few breweries in the country that had its own malting plant, instead of having to purchase malt for their beers.
During Prohibition, Duluth Brewing and Malting changed their name to The Sobriety Company, and began making near beer and Lovit brand soft drinks. This was not enough to keep the company thriving, and in 1930 Fitger's purchased the Lovit brand and the rights to all of Duluth Brewing and Malting's beer labels. After World War II the brewery expanded its market and new growth meant enlarging the plant on Helm Street.
In 1966, Duluth Brewing and Malting was forced to close due to the Minnesota Highway Department's plans to extend Interstate 35 and most of the plant was demolished. However, the office, bottling facility, and warehouse still stand and now are home to Clyde's Malting Building event venue.
Weddings at the Malting Building
Begin your life together surrounded by rich history. The vintage, urban atmosphere provides a unique canvas for every style and taste – and with space to accommodate 25 to 1,500 guests your dream wedding truly has no limits.
You'll discover there's more that the Malting Building can do for you:
Offering everything from appetizers to plated meals to themed buffets
Built-in bar upstairs and on the main level
A highly-trained, experienced, and attentive staff
Professional design and decorating consultation
Free WiFi and ample complimentary parking
The Malting Building is yours for the entire day
A/V equipment and stage rental availability
A private, on-site bridal suite for members of the wedding to get ready
Corporate Events
For meetings or business events large or small, the Malting Building provides the perfect space for any type of gathering. Whether you are interested in hosting during the day or in the evening, casual or formal, our team takes care of the venue, so you can get back to doing business.
Social Events
The Malting Building's open concept allows us to tailor your event into the perfect social gathering. From galas to class reunions to birthday parties, our experienced event team and unmatched amenities create a memorable experience for everyone on the guest list.
Venue Specs
The historic Malting Building on Clyde Campus offers 17,500 sq. ft. of event space for all occasions.
Event Center
Adaptive space includes a main floor and a mezzanine
Capacity: 450 seated between main level and mezzanine | 850 standing
Main Floor
25′ ceiling height
60′ wide and 80′ long
Built-in bar
Two Balconies
Second level overlooking the main floor
13.5′ ceiling height
Built-in bar
Venue Package Includes:
Linens, table wares, tables (dining, ancillary, cocktail), and chairs
20′ x 16′ screen (available with event center rental)
Event staff including two bartenders (available with event center rental)
Food tasting for two (available for booked wedding events)
Set up and tear down
Ample free parking
ADA accessible
Free WiFi
Bridal suite
Catered to Perfection
We are proud to offer catering from our on-site restaurant. Enjoy a taste of our kitchen:
Appetizers
Clyde's bite-sized appetizers offer big flavor. From cheese and meat platters to spring rolls to bacon-wrapped shrimp – our apps will get the party started.
Plated Meals
Your guests will be talking about our plated meals – of course, when they're not busy cleaning their plate. Clyde's recipes offer flavor as unique as your event.
Theme Buffets
Are you feeling Italian or stick-to-your-fingers BBQ? Or, is fresh fish catching your eye? Let us know. In our line-up of buffets your guests can eat a little or a lot.
Step up to the Bars
Load up at our pasta bar, taco bar, or carving station. The bars allow for meal creativity, while the carving stations offer "the show."
Beverages
From soft drinks to hard drinks. From bottles to kegs. From wine or champagne at the table to a full-service bar. Whatever whets your whistle, Clyde can provide.
Clyde Beer
We are proud to offer our own line of kegged Clyde beer — choose from:
Clyde Cream Ale
Empire Kolsch
Whirley Wheat
Siff Leg IPA
McGiffert Logger
Steam Skidder Stout
Operator's Root Beer (Non-alcoholic)
Special Requests
How can we make your event spectacular? Tell us, and if it's possible, we'll make it happen.
Off-Site Pizza Oven Rental
Elevate your next event with our Le Panyol portable pizza oven. Perfect for birthday celebrations, grad parties, reunions and corporate events– you bring the party and we'll take care of the rest. Fill out a contact form or email our events manager at events@clydeironworks.com for more information.
Schedule a Personal Tour
If you're interested in learning more or taking a personal tour of our spaces, contact our Events Manager, Antonia Giuliani by filling out the form below, calling us at 218-727-1150, or emailing us at events@clydeironworks.com.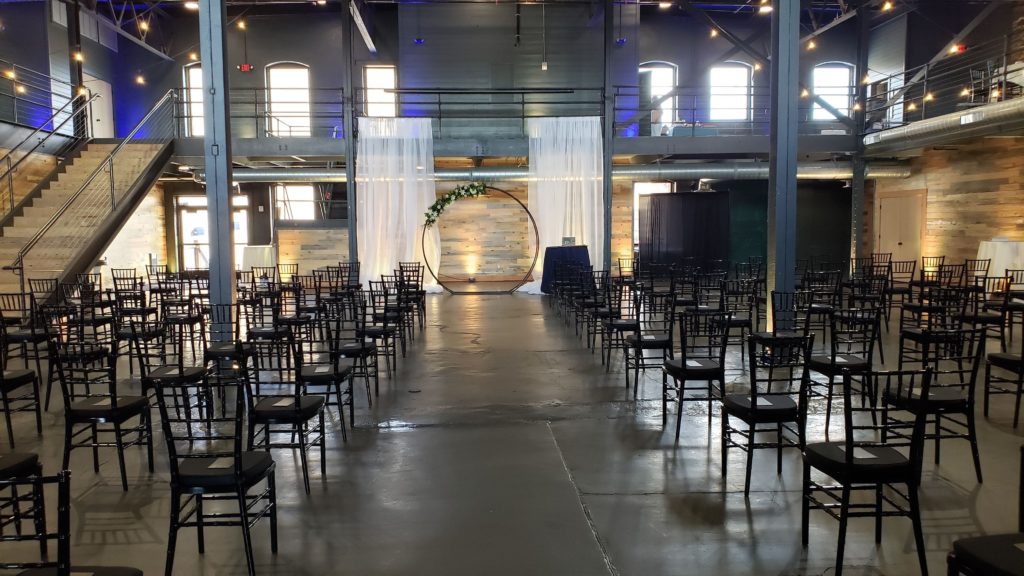 Get in Touch to Plan Your Event