Events
Clyde Event Center
Stepping into Clyde Event Center puts you in the center of a special piece of Minnesota history. These industrial walls – now transformed into a versatile and beautiful event space – were once instrument in creating the world we live in today, and now we again look forward to creating your perfect event. From weddings grand or micro, corporate events or social events, our spaces provide endless opportunities.
A Look Into History
Northwestern Manufacturing, what would become Clyde Iron Works in 1901, was founded on October 21, 1889. It was one of many heavy industrial fabricators in Duluth, a factory town and port city.
With hoists in high demand, one of the first products built by Clyde was the 1901 McGiffert Log Loader, a steam-powered, self-propelled hoist capable of moving 350,000 board feet daily. The success of the loader drove the construction of their first dedicated building in 1907, and what followed was a long list of firsts, including: First to use internal combustion engine for a hoist (1912); First to use a silent chain drive for a hoist (1922); First to build a welded steel crane (1925); First to build a crane capable of lifting in excess of 4,400 tons, or the weight of a large building (1985).
Called to duty for WWI and WWII, Clyde made hoists and derricks for the Army, leaving such an impression that Duluth was called on by France to build more units for their ports. Clyde was awarded the Army-Navy "E" for excellent war manufacturing service.
Clyde Iron Works built some of the largest cranes in the world at the time and was instrumental in completing well-known projects such as the Panama Canal, the Empire State Building and the Golden Gate Bridge.
In 1986, the Duluth operation closed and moved to St. Paul, merging with the marine division of American Hoist & Derrick to become AmClyde. From that time on the Lincoln Park site was used for numerous purposes including making replacement parts for AmClyde's custom-built cranes and being used as a build-to-print contract metal fabricator and machine shop.
In 2003 the site was purchased by Duluthian, Alessandro Giuliani who started developing Clyde Park's restaurant and entertainment venue. Opening in 2010, Clyde Iron Works Restaurant & Bar has become a premier restaurant, bar and event space. Although Clyde's manufacturing days are a memory, its presence honors the American worker of yesterday and today.
Weddings at Clyde
Begin your life together surrounded in rich history – at Clyde.
As you walk down the aisle to your future, Clyde's urban setting and industrial elegance of the past fashions the adaptable space for you to bring your personal style to life with a vast array of amenities, memorable catering done on-site, and an experienced staff to help you every step of the way.
Weddings at Clyde include:
Everything from appetizers to plated-meals to themed-buffets
A highly-trained, experienced and attentive staff
Professional design and decorating consultation
Free WiFi and ample complimentary parking
Clyde's facility is yours for the entire day
A/V equipment and stage rental capabilities
A private, on-site bridal and groom suites for members of the wedding to get ready
Corporate & Social Events at Clyde
The craftsmanship and detail that once occurred within these walls have been reinstilled in this versatile and flexible venue designed to be the meeting place for events ranging from corporate trainings to trade expos to luncheons and everything in between. Whether you're interested in hosting during the day or at night — casual or formal — need an open space or breakout rooms for smaller presentations —  we can make it happen. Our spaces feature state of the art lighting and sound, free wifi, and on-site catering capabilities. Let our team help plan the essentials for your next corporate event.
Our venue's open concept allows us to tailor your event into the perfect social gathering. From galas to class reunions to birthday parties, our experienced event team and unmatched amenities create a memorable experience for everyone on the guest list.
Specs & Floor Plans
The entire building is available – restaurant, bar, upstairs bar event space, event center – for private or semi-private settings up to 2,000 people.
Event Center
Capacity: 600 seated I 1,200 standing
Adaptive space includes a main floor and two balconies – all for you to use as you wish.
Main Floor
40' ceiling height.
40' wide and 80' long with an additional 10' wide walkway on each side.
Two Balconies
Second level overlooking the main floor.
20' ceiling height. 25' wide and 80' long.
You may choose to use one or both balconies, the main floor, or all three.
Upstairs Bar Event Space
Second level overlooking Clyde restaurant and brewery.
Includes private bar.
Semi-private space with the capacity to hold up to 100 guests.
Venue Package Includes:
Linens, table wares, tables (dining, ancillary, cocktail) and chairs
20′ x 16′ screen (available with event center rental)
Event staff including two bartenders (available with event center rental)
Food tasting for two (available for booked wedding events)
Set-up and tear down
Ample free parking
ADA accessible
Free WiFi
Catered to Perfection
We are proud to offer catering from our on-site restaurant. Enjoy a taste of our kitchen:
Appetizers
Clyde's bite-sized appetizers offer big flavor. From cheese and meat platters to spring rolls to bacon-wrapped shrimp – our apps will get the party started.
Plated Meals
Your guests will be talking about our plated meals – of course, when they're not busy cleaning their plate. Clyde's recipes offer flavor as unique as your event.
Theme Buffets
Are you feeling Italian or stick-to-your-fingers BBQ? Or, is fresh fish catching your eye? Let us know. In our line-up of buffets your guests can eat a little or a lot.
Step up to the Bars
Load up at our potato bar, pasta bar, taco bar or carving station. The bars allow for meal creativity, while the carving stations offer "the show."
Beverages
From soft drinks to hard drinks. From bottles to kegs. From wine or champagne at the table to a full-service bar. Whatever whets your whistle, Clyde can provide.
Clyde Beer
We are proud to offer our own line of kegged Clyde beer — choose from:
Clyde Cream Ale
Empire Kolsch
Whirley Wheat
Siff Leg IPA
McGiffert Logger
Steam Skidder Stout
Operator's Root Beer (Non-alcoholic)
Special Requests
How can we make your event spectacular? Tell us, and if it's possible, we'll make it happen.
Off-Site Pizza Oven Rental
Elevate your next event with our Le Panyol portable pizza oven. Perfect for birthday celebrations, grad parties, reunions and corporate events– you bring the party and we'll take care of the rest. Fill out a contact form or email our events manager at events@clydeironworks.com for more information.
Schedule a Personal Tour
If you're interested in learning more or taking a personal tour of our spaces, contact our Events Manager, Antonia Giuliani by filling out the form below, calling us at 218-727-1150, or emailing us at events@clydeironworks.com.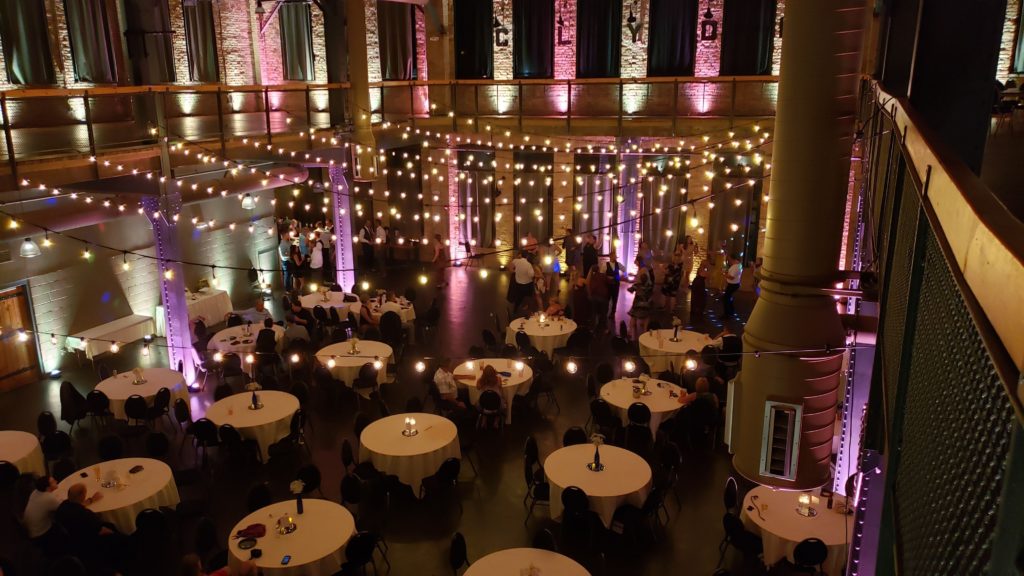 Get in Touch to Plan Your Event